Words by Enrique Marcos Collado
Vaccine trends in all EU countries are not entirely discouraging, offering some hope that summer holidays in a preferred destination for many European may be possible yet. In Spain, the number of individuals who say they would not take the vaccine immediately fell from 47% in November to 28% in late December, according to a barometer conducted by the Sociological Research Centre (CIS).
As vaccination efforts have launched around the world, the question on the minds of public health authorities everywhere is will hesitations against vaccines be dispelled as mass application demonstrates its effectiveness. While Spain is doing well in terms of the general population's willingness to receive the vaccine, skepticism has not been entirely eradicated. Our research suggests a twofold erosion process has occurred: a loss of confidence in the central government and a lack of trust in pharmaceutical companies.
After experiencing four elections in five years, the trust Spanish citizens hold for the political class and its discourse has been severely shaken. Our research illustrates this well: the current government yields a -13% net trust among citizens. This ranks only slightly above alternative media (-14%), with the two lowest trust rankings, Russian media (-50%) and social media (-50%), coming in far behind.
This public distrust of the Spanish political sphere has only intensified in the wake of multiple scandals and poor political decisions made since the first wave of the pandemic.
To recap some of these gaffes for those not following Spanish politics closely: the Health Minister left his seat to run for Catalonian presidency and the central government's COVID-19 expert has made multiple incorrect and/or contradictory statements regarding masks and virus regulations, including calling for a blacklist of individuals who have refused to take the jab. Overall, 41% of Spaniards trust the central government less today than they did in March 2020 (compared to 49% the same and 10% more). From the four markets we surveyed, Spain is the only country which demonstrates more trust for European Institutions than its own national government.
The profile of an anti-vaxxer in Spain is closely linked to right-wing activists and political parties, often having had prior involvement with anti-mask movements and demonstrations. According to CIS, supporters of the far-right VOX political movement are the most reticent about the vaccine, with half of the respondents indicating they would not take the jab. This should not come as a significant surprise as the movement's leadership has repeatedly called for a boycott of the central government through demonstrations and has challenged pretty much every major political decision taken in Spain.
Some of vaccine hesitancy in Spain is driven by the public's perception of pharmaceutical companies. In recent years, there have been several scandals involving the national government and pharmaceutical companies which have undermined the role of pharmaceutical companies and damaged their reputation amongst members of the general public.
Our research indicates the level of confidence regarding pharmaceutical companies in Spain is concerningly low. Of the participants, only 51% believed pharmaceutical companies had their best interest at heart and 34% expressed uncertainty.  Of the 15% of individuals who expressed a belief that pharmaceuticals did not have their best interests at heart, all cited the profit-driven nature and/or business interests of these companies as justification for their lack of trust.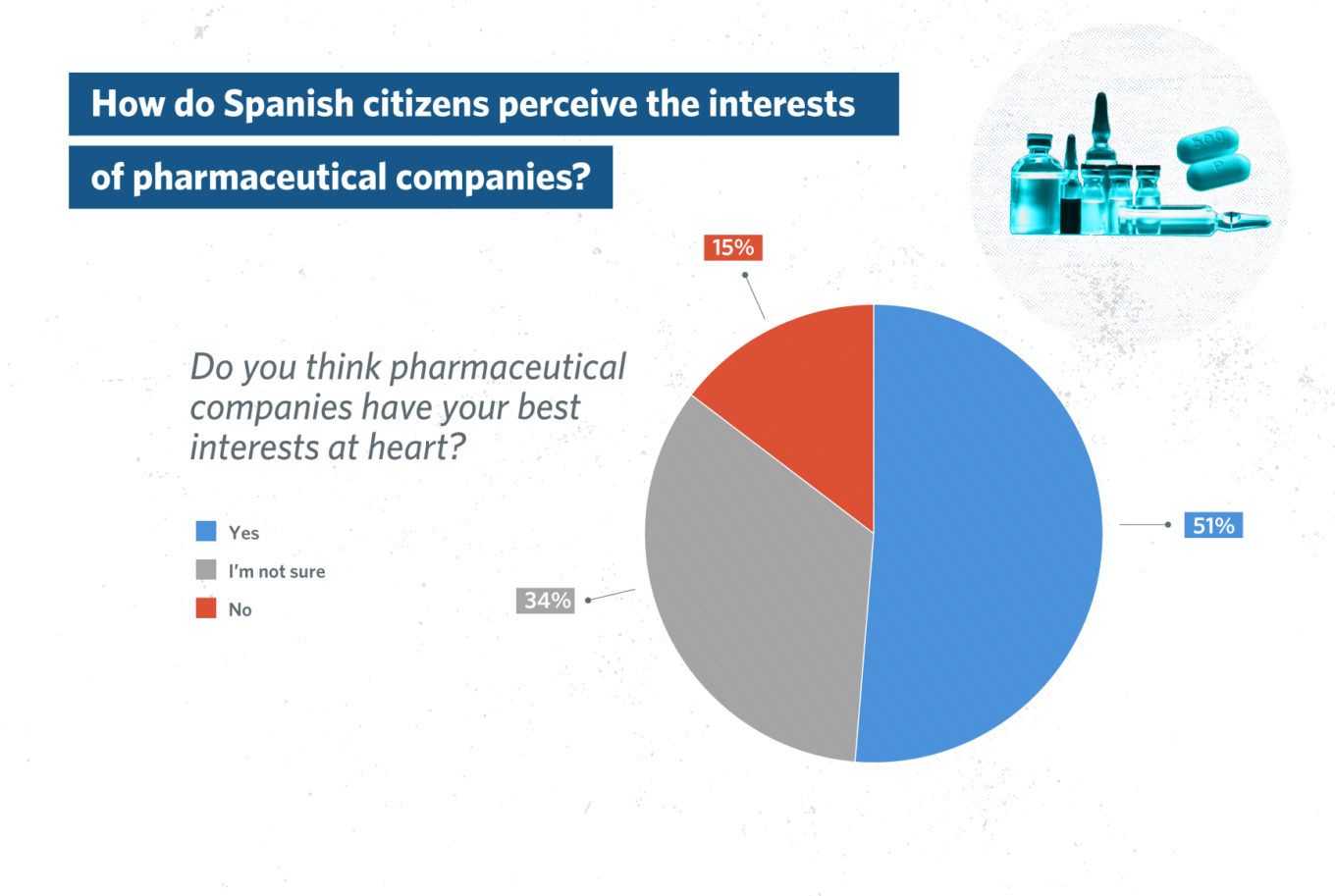 Despite these stats, how has Spain managed to keep its vaccine hesitant movement under control when compared to its European neighbors? Our research indicates the answer may lie with the shared competence system regarding public health decisions in Spain. Autonomous communities are responsible for deciding when to administer vaccines, to what groups and how to communicate official decisions. This approach has been highly effective because out of all political authorities, Spanish citizens hold the highest level of trust for their municipality or region of residence, each having received a net trust of 35% and 33% respectively (recall the national government received a negative net trust rating of -13%).
Moving beyond national bodies, independent sources hold the most confidence among Spanish citizens, with local doctors (66%) and national scientific experts (53%) ranking the highest in net trust and being the only categories to exceed 50%. Confidence in these sources has even increased from the first to second wave of the pandemic, suggesting a local and personal approach has helped dispel skepticism in Spain.
Perhaps the decentralized and competence sharing Spanish system can teach other states valuable lessons about encouraging vaccine uptake. Addressing the issue through regional and local authorities has been key to unpacking concerns held by hesitant citizens, creating a relational and local strategy to help encourage and administer vaccines. Could this also be the answer for other countries with comparable regional systems? The next few months and the success or failure of vaccines uptake will provide us with the answer.
Don't forget to check out our full report. 
Find Out More